Sign-Up for Our Newsletter
Get the latest Chamber updates and news sent to your email weekly!
This also provides a platform for our members to advertise and share any of their business news
Exciting News!
AICCNM is now on Twitter and Instagram!
In hopes that this will allow those of you who like to keep up with easier and more convienient access to all the latest chamber news!
Follow us on twitter @AICCNM_ and on Instagram @AICC_NM
Just look for our logo!
Welcome to our new & returning chamber members!
Isleta Resort & Casino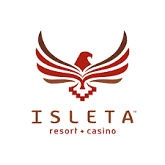 Gary Tomlee